Welcome !
This guide is for every player of Neverwinter. I've worked months to give you a proper guide on every aspect of the game. I hope it will answer most of your questions !
Support me !
You can support me on these platforms :
Patreon
Paypal
If you like my guide, think it's helpful, that it saved you time or resources, please consider supporting me. Working on this is extremely time consumming, and I need your support to be able to give you more content and good updates !
Mod 20 is coming !
Neverwinter: Sharandar will release February 9 on PC and March 9 on Console. Look at the news here !
Last Update
Note that there is a big rework on companions and bonding runestones coming : Bonding Runestones & Companion Changes. So it may be wise to wait a bit before investing too much into companions and bonding runestones until we have more information. Note that there is also a huge rework on stats coming : Combat Rework. Read these carefully, as both will have a huge impact on the game !
December 2020 : reworked the Leveling page (Energon is now the best starting companion since green augments are now 10-20 times more expensive than they were before). Added a paragraph about the importance of Invoking your Deity.
Added the Forsaken Lockbox mounts (Polar Siege Bear and Brown Siege Bear), the Divine Wings and the Twilight Festival one.
Completed my Stats Calculator ! (too bad the update coming will change everything...)
Entirely reworked the Priorities category to make it more visible. And added a Character Creation page.
And you can look at my article on the Stats on Preview on Reddit !
Now, I'm taking some rest, because I'm really exhausted from all of this. But you can expect an early access on all of the work I'll do in the future for those who support me. I'm working on making this happen early in January. And I'll do a newsletter for those who are interested. I hope you'll have an excellent end of year ! Let's have lots of adventures next year ! ;)
November 2020 : with the mount rework, I made a list of mounts. It can be filtered by Equip Power, Combat Power, Insignia Bonuses, Quality, Name... I've digged up all the information I could find about them ! I also reworked a bit the Undermoutain and Path of the Fallen campaigns. I also updated the Gear section accordingly.
October 2020 : This is an entire rework of my Guide for Clerics on MMoMinds. It has been updated to work for every class, though only the Powers of the Clerics are detailled yet (others are coming as soon as I find the time). I've been working on this since July, and this is still a work in progress. Hopefully, this is only the beginning !
Who am I ?
Hi ! I am Astrielle@Obikin89, Devout Cleric, playing on PS4, in the Dominion of Lost Souls guild.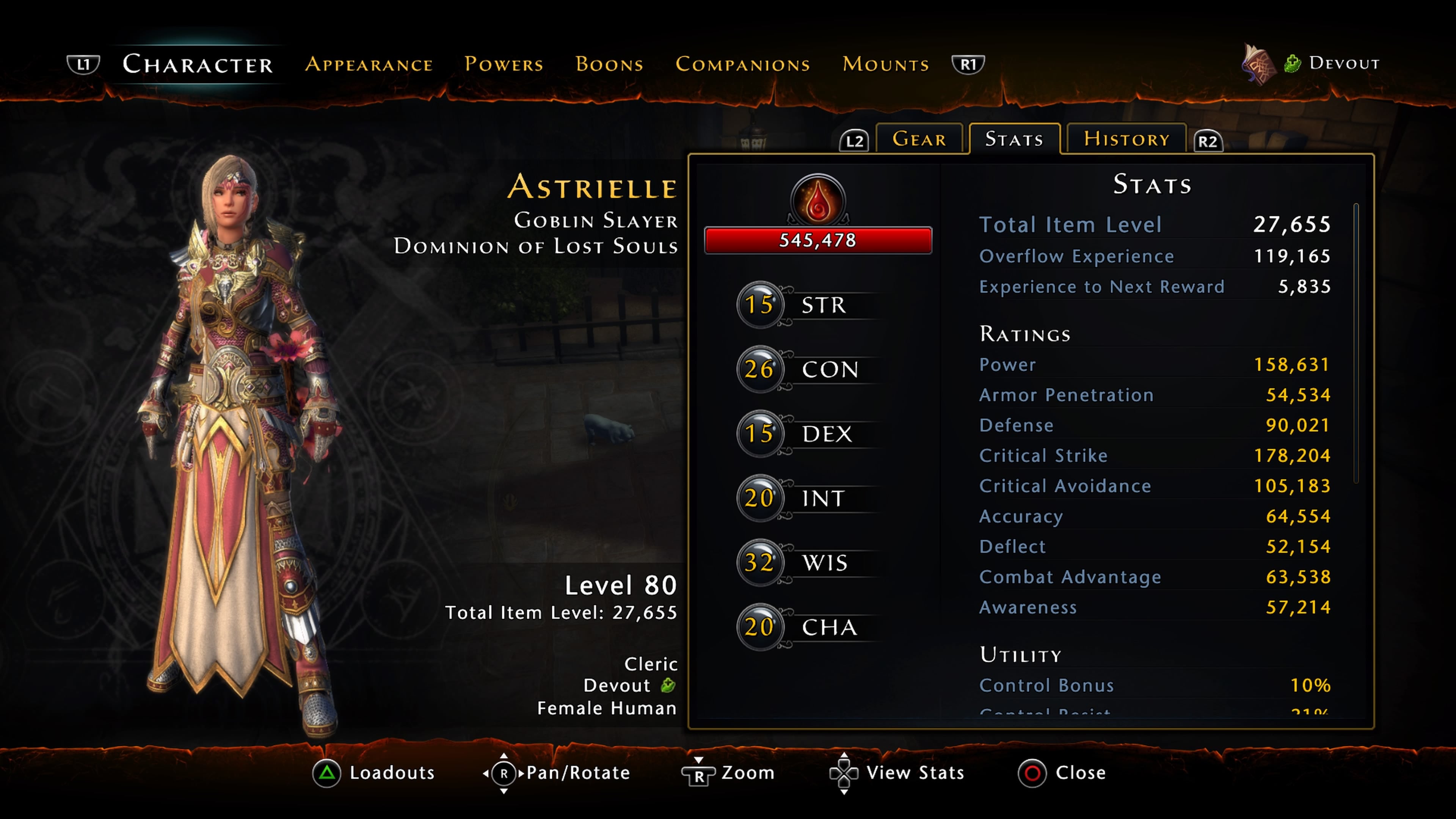 I've been playing since the 4th of September 2018 (mod 14). And, progressing at a steady pace, I have beaten LoMM and IC on the day they were available (without buying campaign accelerators). I finally beat ToMM recently (in mod 18) and got my Lionheart weapons thanks to fantastic training runs with my guild. I am looking forward to beating Zariel !